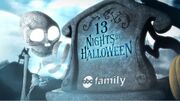 "13 Nights Of Halloween" (previously known as "13 Days of Halloween") is a programming special on ABC Family, which originally began airing in 1998 after The Family Channel became Fox Family, two years after their "25 Days of Christmas" special premiered. The "13 Nights of Halloween" special was created mainly due to the success of the latter. The special lasts from October 19, until Halloween night.
Ad blocker interference detected!
Wikia is a free-to-use site that makes money from advertising. We have a modified experience for viewers using ad blockers

Wikia is not accessible if you've made further modifications. Remove the custom ad blocker rule(s) and the page will load as expected.