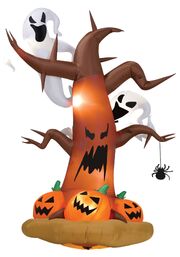 Airblown Inflatables are a brand of seasonal yard decorations sold and manufactured by Gemmy. Most of Gemmy's Airblown Inflatables are made for Christmas, but their secondary holiday for which Airblown Inflatables are manufactured is Halloween.
An Airblown Inflatable will usually come packaged in a square box for a standard eight feet tall inflatable while the secondary size being four feet tall will come in a rectangular box. Every Airblown Inflatable has an engine with fan which keeps the inflatable inflated. A four feet tall Airblown Inflatable will come with a small motor that consists of only the fan which is connected to a detachable power cord, while a standard eight feet tall Airblown Inflatable will include a larger motor with unfolding legs with holes for stakes and will have the power cord already attached to the motor.
Four foot tall Airblown Inflatables are usually only meant to be used as indoor decor that will short circuit if exposed to wet weather while eight foot tall Airblown Inflatables are designed with larger weather resistant motors. Eight feet tall Airblown Inflatables  also include ropes that can be used to anchor them to the ground along with the holes in the motors' legs.
Ad blocker interference detected!
Wikia is a free-to-use site that makes money from advertising. We have a modified experience for viewers using ad blockers

Wikia is not accessible if you've made further modifications. Remove the custom ad blocker rule(s) and the page will load as expected.