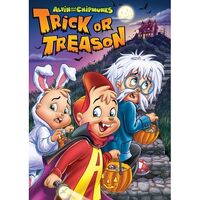 Trick or Treason is a Halloween-themed animated TV special which features the characters Alvin and the Chipmunks.
Plot
Alvin wants to be accepted into a club famous for playing pranks on Halloween, known as the Monster Club. The Monster members seem to think it is cool to be cruel. It takes Theodore's friendship with Michael, a misunderstood outcast who the other children call Pumpkinhead, to show Alvin that being a true friend is really a lot more cool than trying to be a popular Monster.
External links
Ad blocker interference detected!
Wikia is a free-to-use site that makes money from advertising. We have a modified experience for viewers using ad blockers

Wikia is not accessible if you've made further modifications. Remove the custom ad blocker rule(s) and the page will load as expected.