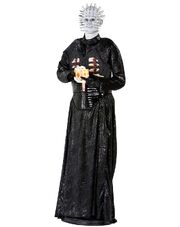 The Animatronic Pinhead is a scary prop decoration for Halloween.
The killer Pinhead from the Hellraiser films has returned to kill! He will make the town sorry if they tick him off!
Videos
Ad blocker interference detected!
Wikia is a free-to-use site that makes money from advertising. We have a modified experience for viewers using ad blockers

Wikia is not accessible if you've made further modifications. Remove the custom ad blocker rule(s) and the page will load as expected.