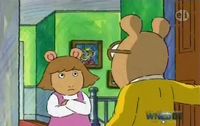 "Hic or Treat" is a Halloween episode of the animated TV series Arthur.
Created by Cookie Jar Group (formerly known as Cinar) and WGBH for the Public Broadcasting Service, Arthur is a Canadian/American animated educational television series. It follows 8-year-old anthropomorphic aardvark Arthur Read and his various adventures alongside his friends and family in the fictional Elwood City, a town located somewhere in America. It is based upon the Arthur book series, written and illustrated by Marc Brown.
With more than 195 episodes, the show is PBS Kids' second-longest running show (behind Sesame Street) and it is the second-longest running animated series in the United States, behind only The Simpsons.
Plot
Arthur tries to prepare his costume for Halloween, but he is distracted by D.W.'s case of hiccups. She has been hiccuping for two days and it seems like they just will not stop. On Brain's advice, Arthur tries to scare her, but it does not work. He discovers that D.W. is frightened by some very unusual things.
Ad blocker interference detected!
Wikia is a free-to-use site that makes money from advertising. We have a modified experience for viewers using ad blockers

Wikia is not accessible if you've made further modifications. Remove the custom ad blocker rule(s) and the page will load as expected.