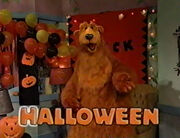 "Halloween Bear" is a Halloween episode of the children's TV series Bear in the Big Blue House. It was first shown in 1999.
Plot
The Big Blue House is all decorated for Halloween and everyone is getting ready for the holiday. Bear helps his friends to find costumes and helps Tutter with carving a pumpkin. He comforts Treelo when he is scared by Ojo's bat costume. Later, everyone gets together for some fun trick-or-treating. The kids have all picked out their Halloween costumes, but Bear has not been able to find anything to dress up as. The kids go through Bear's box of costumes and come up with an amusing idea. In the shadow segment, Shadow performs the song "What Do Shadows Do for Halloween?"
Ad blocker interference detected!
Wikia is a free-to-use site that makes money from advertising. We have a modified experience for viewers using ad blockers

Wikia is not accessible if you've made further modifications. Remove the custom ad blocker rule(s) and the page will load as expected.