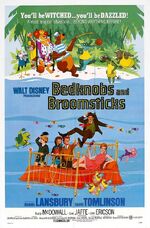 Bedknobs and Broomsticks is a 1971 fantasy film from Walt Disney Pictures. It was directed by Robert Stevenson and was written by Ralph Wright and Ted Berman. It stars Angela Wright, David Tomlinson and Roddy McDowall.
In the film, an apprentice witch, three children and a cynical conman (who had falsely claimed to be an expert in witchcraft) search for the missing component to a magic spell useful to the defense of Britain during World War II.
Videos
External links
Ad blocker interference detected!
Wikia is a free-to-use site that makes money from advertising. We have a modified experience for viewers using ad blockers

Wikia is not accessible if you've made further modifications. Remove the custom ad blocker rule(s) and the page will load as expected.