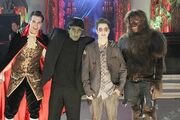 "Big Time Halloween" is the Halloween special of the live-action TV series Big Time Rush.
Plot
Kendall does not want Jo to learn that he is a werewolf but she may find out at a Halloween concert. Other monsters featured in the episode include, James who is a vampire, Gustavo and his assistant who are evil scientists, Logan who is a zombie, Carlos who is Frankenstein's monster and the executive producer who is a wizard. Kendall's mother and sister are witches.
Ad blocker interference detected!
Wikia is a free-to-use site that makes money from advertising. We have a modified experience for viewers using ad blockers

Wikia is not accessible if you've made further modifications. Remove the custom ad blocker rule(s) and the page will load as expected.