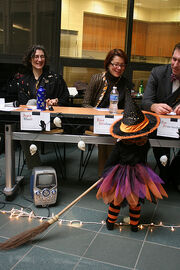 A broomstick or broom is one of the accessories for a witch or wizard costume. Decorations that feature witches flying on broomsticks are also a common sight during Halloween.
In old beliefs about witchcraft a broom could serve multiple purposes. It was said to be used as an aid to casting spells as well as being used to fly on. Witches are sometimes said to have used an ointment which made people feel as if they were magically flying in the air. 
Related
Ad blocker interference detected!
Wikia is a free-to-use site that makes money from advertising. We have a modified experience for viewers using ad blockers

Wikia is not accessible if you've made further modifications. Remove the custom ad blocker rule(s) and the page will load as expected.