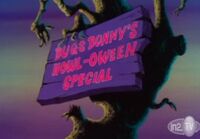 Bugs Bunny's Howl-oween Special is a 1978 Looney Tunes Halloween television special. It first aired in the United States on CBS on October 26, 1978. The special is made up almost entirely of clips from nine different Warner Bros cartoon shorts which were first theatrically released between 1948 and 1966. Some of the dialogue is re-dubbed and a small amount of new footage is added in order to advance the special's plot.
Featured cartoons
In the order in which clips from them appear in the special:
A-Haunting We Will Go (1966)
Broom-Stick Bunny (1956)
Hyde and Hare (1955)
A Witch's Tangled Hare (1959)
Claws for Alarm (1954)
Scaredy Cat (1948)
Transylvania 6-5000 (1963)
Bewitched Bunny (1954)
External links
Ad blocker interference detected!
Wikia is a free-to-use site that makes money from advertising. We have a modified experience for viewers using ad blockers

Wikia is not accessible if you've made further modifications. Remove the custom ad blocker rule(s) and the page will load as expected.