Carrie  is a 2013 American film. It is a remake of the 1976 movie adaption of Stephen King's novel of the same name. The role of Carrie White is played by Chloë Grace Moretz, who is so far the youngest actress who has portrayed Carrie.
The movie was rated R by the Motion Picture Association of America for scenes of bloody violence, disturbing images, some sexual content and bad language.
Trailer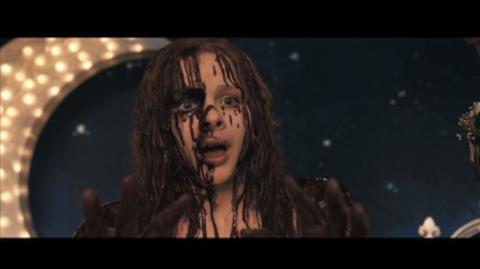 Cast
Carrie White - Chloë Grace Moretz
Margaret White - Jullian Moore
Sue Snell - Gabriella Wilde
Chris Hangersen - Portia Doubleday
Billy Nolan - Alex Russell
Tina Blake - Zoë Belkin
Tommy Ross - Ansel Elgort
Judy Greer - Ms. Desjardin
External links
Ad blocker interference detected!
Wikia is a free-to-use site that makes money from advertising. We have a modified experience for viewers using ad blockers

Wikia is not accessible if you've made further modifications. Remove the custom ad blocker rule(s) and the page will load as expected.