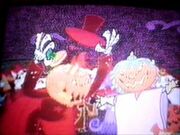 "Pumpkin Love" is a Halloween-themed episode of the animated TV series ChalkZone.
Plot
Rudy Tabootie carves a pumpkin for a school contest and ends up coming into ChalkZone disguised as a woman. Snap drags them both into the dark zone of the cemetery to watch a rock concert with a few hundred ghouls.
External links
Ad blocker interference detected!
Wikia is a free-to-use site that makes money from advertising. We have a modified experience for viewers using ad blockers

Wikia is not accessible if you've made further modifications. Remove the custom ad blocker rule(s) and the page will load as expected.