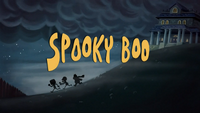 "Spooky Boo" is a Halloween-themed episode of the animated TV series Clarence. It first aired in the United States on Cartoon Network on October 27, 2015.
Plot
After Clarence leads a few neighborhood kids through his homemade haunted house, Chelsea makes a suggestion about going to the high school kids' haunted house for some real scares. But when the gang went the wrong direction, they find themselves inside a mysterious house on a hill full of creepy sounds, ghoulish shadow figures and a mutant rat man.
Ad blocker interference detected!
Wikia is a free-to-use site that makes money from advertising. We have a modified experience for viewers using ad blockers

Wikia is not accessible if you've made further modifications. Remove the custom ad blocker rule(s) and the page will load as expected.