"The Halloween Howl" is a Halloween episode of the animated TV series Cyberchase.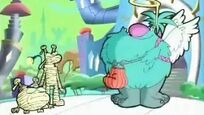 Plot
It is Halloween in Castleblanca, night of the big party, the Halloween Howl. Hacker has taken over the Mayor's Castle for a candlelit dinner with Erica Ram, all designed to make Wicked jealous. But the Mayor returns and wants Hacker out. Hacker brings the castle's stone gargoyles to life, capturing the Mayor and imprisoning him in the dungeon. The children and Digit must master division to rescue the Mayor, deal with the gargoyles, and save The Halloween Howl. But how can the Cybersquad save the Halloween party when Jackie and Inez are arguing about what Inez wrote in her diary?
External links
Ad blocker interference detected!
Wikia is a free-to-use site that makes money from advertising. We have a modified experience for viewers using ad blockers

Wikia is not accessible if you've made further modifications. Remove the custom ad blocker rule(s) and the page will load as expected.