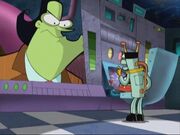 "Trick or Treat" is a Halloween episode of the animated TV series Cyberchase.
Plot
Hacker, claiming to be born again, visits Motherboard on Halloween begging a full pardon. He brings a mechanical frog to Motherboard's garden. What no one suspects is that this frog is intended to hop over to Motherboard's CPU and destroy it. Can the Cybersquad stop the mechanical frog?
External links
Ad blocker interference detected!
Wikia is a free-to-use site that makes money from advertising. We have a modified experience for viewers using ad blockers

Wikia is not accessible if you've made further modifications. Remove the custom ad blocker rule(s) and the page will load as expected.