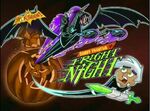 "Fright Night" is the Halloween episode of the animated TV series Danny Phantom.
Plot
In an attempt to beat Dash in a haunted house decorating contest, Danny "borrows" the enchanted sword of the Spirit of Halloween, the Fright Knight. When the evil, ghostly knight comes to retrieve his magic saber, he decides to stick around long enough to turn the real world into his own stormy realm of terror. Danny Phantom has other ideas, however, and tries to banish the Fright Knight back to the Ghost Zone.
Ad blocker interference detected!
Wikia is a free-to-use site that makes money from advertising. We have a modified experience for viewers using ad blockers

Wikia is not accessible if you've made further modifications. Remove the custom ad blocker rule(s) and the page will load as expected.