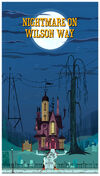 "Nightmare on Wilson Way" is a Halloween episode of the animated TV series Foster's Home for Imaginary Friends. It first aired in the United States on the Cartoon Network on October 12, 2007.
Plot
Blooregard plans to play the ultimate trick on Halloween after tying down Mac onto a bed preventing another sugar rush, but when things go awry, most of the main characters of the residence turn into zombies.
Ad blocker interference detected!
Wikia is a free-to-use site that makes money from advertising. We have a modified experience for viewers using ad blockers

Wikia is not accessible if you've made further modifications. Remove the custom ad blocker rule(s) and the page will load as expected.