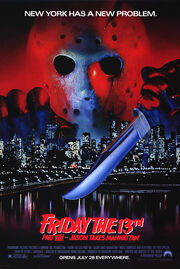 Friday the 13th Part VIII: Jason Takes Manhattan is a 1989 horror slasher film. It is a sequel to Friday the 13th Part VII: The New Blood. It was directed and written by Rob Hedden and Victor Miller. It stars Jensen Daggett as Rennie Wickham, Kane Hodder as Jason Voorhees, and Todd Caldecott as Jim Miller. The movie is mainly about Jason Voorhees being slipped onto a boat and taken to Manhattan to terrorize New York City.
The movie was not a great box office success. It was made on a budget of $5,000,000 and earned more than $14,000,000. The film was rated R by the Motion Picture Association of America. It was banned in Finland.
In 1993, a sequel, Jason Goes to Hell: The Final Friday, was released.
External links
Ad blocker interference detected!
Wikia is a free-to-use site that makes money from advertising. We have a modified experience for viewers using ad blockers

Wikia is not accessible if you've made further modifications. Remove the custom ad blocker rule(s) and the page will load as expected.