Gnome costume
Information
Name:
Gnome costume
Difficulty level:
Moderately easy
Common?
No
Male or Female?
Generally male
A gnome costume is relatively simple... The common, "gnome look" is similar to one of Santa's helpers on vacation.
The cloth pointed hat is a must! It's not as stiff as a magician, witch or wizard's hat. The hat and shirt usually seem to be in solid, but different colors—mostly red, green, gold-yellow and sometimes blue. A bushy white beard is helpful. A rotund figure is common—you might want to stuff your shirt with a pillow. Leggings and a loose shirt with big buttons down the front are good.
Related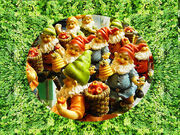 External links
See the excellent collection of gnome costumes on the Costume Wikia: Gnome.
Ad blocker interference detected!
Wikia is a free-to-use site that makes money from advertising. We have a modified experience for viewers using ad blockers

Wikia is not accessible if you've made further modifications. Remove the custom ad blocker rule(s) and the page will load as expected.