This is a wiki about Halloween that anyone can edit. Join and help us grow the wiki!
We also have a sister wiki in Chinese.

Announcement:
We welcome the creation of new articles and the editing and expansion of existing articles but please don't just copy text word-for-word from Wikipedia, other wikis, other websites or anywhere else. Please write in your own words. We would like all material here to be original. Thank you.


Hellraiser is a 1987 British horror movie. It was directed by Clive Barker and based on a novella, The Hellbound Heart, which Barker himself had written.
The film was a box office success. It was made on an estimated budget of only $1,000,000 and earned more than $14,000,000 at movie theaters in the United States.
Hellraiser was rated R by the Motion Picture Association of America. It was originally banned in Iceland.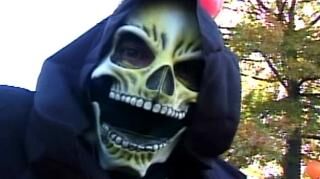 What is your favorite part of Halloween?

Loading RSS data...

Ad blocker interference detected!
Wikia is a free-to-use site that makes money from advertising. We have a modified experience for viewers using ad blockers

Wikia is not accessible if you've made further modifications. Remove the custom ad blocker rule(s) and the page will load as expected.