This is a wiki about Halloween that anyone can edit. Join and help us grow the wiki!
We also have a sister wiki in Chinese.

Announcement:
We welcome the creation of new articles and the editing and expansion of existing articles but please don't just copy text word-for-word from Wikipedia, other wikis, other websites or anywhere else. Please write in your own words. We would like all material here to be original. Thank you.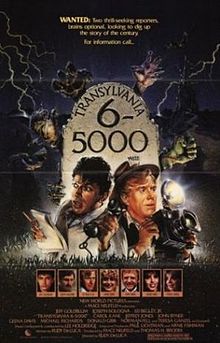 Transylvania 6-5000 is a 1985 American comedy movie. It stars Jeff Goldblum and Ed Begley, Jr. as the journalists Jack Harrison and Gil Turner. It features Geena Davis as Odette. Most of the movie was filmed on location in Yugoslavia.
In the film, two American journalists are sent to Transylvania to investigate a sighting of Frankenstein's monster. During their stay, they are also told to destroy a werewolf and encounter what appear to be a mummy and a sexy female vampire named Odette. However, none of the monster characters are quite what they seem to be at first.
The title is a punning reference to the piece of music "Pennsylvania 6-5000", first recorded by Glenn Miller in 1940.
Transylvania 6-5000 did not perform very well at the box office. Having been made on an estimated budget of $3,000,000, it earned a little over $7,000,000 at movie theaters in North America.


The full 1938 radio play The War of the Worlds



What is your favorite part of Halloween?

Loading RSS data...

Create blog post
Blogs
I'm going to start making pages for all the films soon, but anyway, here's my ranking of the films:

5: Phantasm: Ravager (2016): it had intresting ideas, but what ruined it was terrible CGI, it looks worse than a made for the SyFy channel movie.

Read more >
See more >