This wikia is a community website about Halloween that anyone can edit. Join and help us grow the wiki!
We also have a sister wiki in Chinese.
Announcement:
We welcome the creation of new articles and the editing and expansion of existing articles but please don't just copy text word-for-word from Wikipedia, other wikis, other websites or anywhere else. Please write in your own words. We would like all material here to be original. Thank you.


A Ouija board is the name generally used to refer to a device which is also known as a spirit board or a talking board. It consists of a heart shaped pointer, called a planchette, and a flat board with the letters A to z, the numbers zero to nine and the word 'good-bye" printed on it. The word "hello" is sometimes printed on the board also, as well as decorative images. The board is intended to be used by a group of people who each place one finger on the planchette. The planchette is then supposed to move around the board and spell out messages. The messages are supposed to come from spirits of the dead.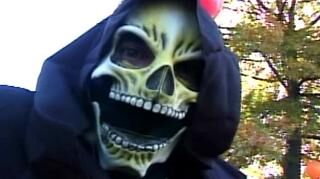 What is your favorite part of Halloween?

Loading RSS data...