This is a wiki about Halloween that anyone can edit. Join and help us grow the wiki!
We also have a sister wiki in Chinese.

Announcement:
We welcome the creation of new articles and the editing and expansion of existing articles but please don't just copy text word-for-word from Wikipedia, other wikis, other websites or anywhere else. Please write in your own words. We would like all material here to be original. Thank you.


Gremlins is a 1984 American movie directed by Joe Dante and released by Warner Bros. It combines elements of science fiction, horror and comedy. Steven Spielberg was the movie's executive producer. The screenplay was written by Chris Columbus. Gremlins stars Zack Galligan and Phoebe Cates. The creature Gizmo was voiced by Howie Mandel.
The plot centers around a young man who is given a cute, furry little animal as a pet. To his surprise, the animal reproduces when it is splashed with water. Its children later transform into dangerous monsters that threaten the small town of Kingston Falls on Christmas Eve.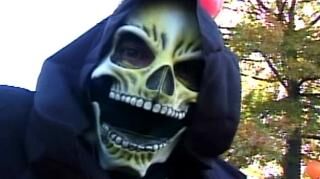 What is your favorite part of Halloween?

Loading RSS data...

Ad blocker interference detected!
Wikia is a free-to-use site that makes money from advertising. We have a modified experience for viewers using ad blockers

Wikia is not accessible if you've made further modifications. Remove the custom ad blocker rule(s) and the page will load as expected.