This wikia is a community website about Halloween that anyone can edit. Join and help us grow the wiki!
We also have a sister wiki in Chinese.

Announcement:
We welcome the creation of new articles and the editing and expansion of existing articles but please don't just copy text word-for-word from Wikipedia, other wikis, other websites or anywhere else. Please write in your own words. We would like all material here to be original. Thank you.


The Phantom of the Opera is a novel by the French author Gaston Leroux that was first published as a newspaper serial between September 23, 1909 and January 8, 10.
The title character is a man who calls himself Erik, is hideously deformed and hides his ugliness behind a mask. Erik is extremely talented but does not appear to know the difference between right and wrong. He is prepared to use extortion, intimidation and even murder in order to get what he wants. He lives beneath the Paris Opera House and moves freely about the building. He is believed by most people who work in the Opera House to be a ghost that haunts the theater. For many years, the Phantom leaves notes to extort money from the Opera House managers and makes them agree to keep box number five free for him at all times. He threatens that there will be severe consequences if his conditions are not met.
The novel deals primarily with the Phantom's relationship with Christine Daae, a beautiful and gifted young opera singer with whom he falls in love.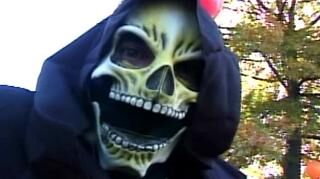 What is your favorite part of Halloween?
<center> Click here to vote in past polls! </center>

Loading RSS data...

Ad blocker interference detected!
Wikia is a free-to-use site that makes money from advertising. We have a modified experience for viewers using ad blockers

Wikia is not accessible if you've made further modifications. Remove the custom ad blocker rule(s) and the page will load as expected.