This wikia is a community website about Halloween that anyone can edit. Join and help us grow the wiki!
We also have a sister wiki in

Announcement:
We welcome the creation of new articles and the editing and expansion of existing articles but please don't just copy text word-for-word from Wikipedia, other wikis, other websites or anywhere else. Please write in your own words. We would like all material here to be original. Thank you.


Ghost Festival (also known as Hungry Ghost Festival and Ghost Month, sometimes referred to as the Chinese Halloween) is a month-long traditional holiday of religious significance to both Buddhists and Taoists which has some similarities to Halloween. It is celebrated in mainland China, Hong Kong, Macau and Taiwan and by Chinese communities in Singapore, Malaysia, Indonesia and elsewhere. Ghost Festival takes up the entire seventh lunar month, which roughly corresponds to August in the Western calendar. The fifteenth day of the month, known as Ghost Day, is considered to be the most important day of the festival. It is believed that the gates of hell are opened during Ghost Month and ghosts are free to walk the Earth.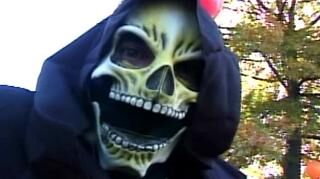 What is your favorite part of Halloween?
<center> Click here to vote in past polls! </center>

Loading RSS data...