This wikia is a community website about Halloween that anyone can edit. Join and help us grow the wiki!
We also have a sister wiki in Chinese.
Announcement:
We welcome the creation of new articles and the editing and expansion of existing articles but please don't just copy text word-for-word from Wikipedia, other wikis, other websites or anywhere else. Please write in your own words. We would like all material here to be original. Thank you.


"Halloween 1989" or "Garfield Alone" refers to a series of six highly unusual Garfield comic strips that first appeared in newspapers between Monday October 23 and Saturday October 28, 1989. The six strips are unlike any other Garfield comic strips because they are not supposed to be funny. Instead, they are intended to be frightening. They present a storyline in which Garfield the cat suddenly finds himself in a future in which his owner Jon and Odie the dog no longer exist. Garfield is left completely on his own and without any food in a house which has long since been abandoned.
Jim Davis, the creator of Garfield, has said, "During a writing session for Halloween, I got the idea for this decidedly different series of strips. I wanted to scare people. And what do people fear most. Why, being alone."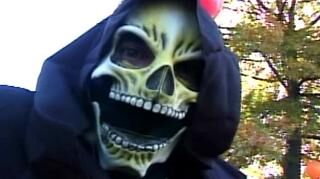 What is your favorite part of Halloween?

Loading RSS data...