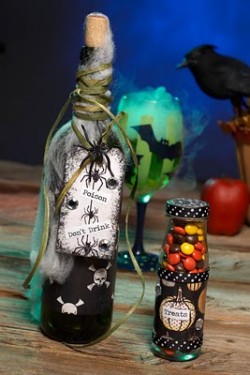 Description
Pour yourself a cup of poison wine with this handcrafted bottle of vino.
Difficulty level
Mid-Level
Supplies needed
Pure black paint
Modge Podge (a combined glue, seal and varnish)
Gloss, 8 oz.
Wine bottle
Halloween papers
Foam paintbrush
Fake spider webs
Raffia wood tag
Fake spider
Rhinestones
Hot glue and glue gun
Directions
1. Cut a piece of Halloween paper to fit around a wine bottle. Coat both sides of the Halloween words with Mod Podge, position around the wine bottle and top coat with more Mod Podge. Use your fingers to press out any air bubbles. Smooth your brush strokes. Allow to dry.
2. Cut a piece of Halloween paper to fit a wood tag. Apply with Mod Podge in the same fashion as step one. Dry brush black paint around the edge of the tag. Once dry, hot glue rhinestones to the tag.
3. Add webs to the neck of the wine bottles. Add wraps of raffia around the neck of the bottle. Tie the tag to the bottle. Hot glue a spider to the tag. Happy Halloween!
See also
Ad blocker interference detected!
Wikia is a free-to-use site that makes money from advertising. We have a modified experience for viewers using ad blockers

Wikia is not accessible if you've made further modifications. Remove the custom ad blocker rule(s) and the page will load as expected.