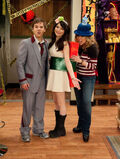 "iHalfoween" is an episode of the TV series comedy iCarly which makes suitable viewing for Halloween. It first aired in the United States on Nickelodeon on April 28, 2012.
Plot
The iCarly gang celebrate "Halfoween" because they think Halloween is so great that it should come twice a year. But when Nevel pulls a prank on Carly and her friends, the party spins out of control.
See also
Ad blocker interference detected!
Wikia is a free-to-use site that makes money from advertising. We have a modified experience for viewers using ad blockers

Wikia is not accessible if you've made further modifications. Remove the custom ad blocker rule(s) and the page will load as expected.