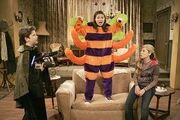 "iScream on Halloween" is a Halloween-themed episode of the live-action comedy series iCarly. It first aired in the United States on Nickelodeon on October 20, 2007. It was the first Halloween episode for the show, premiering as the seventh episode during Season 1.
Plot
Carly, Sam and Freddie do their Halloween webcast from an apartment that is rumored to be haunted. When creepy things start happening, the friends worry that the ghost rumors just might be true. Carly's strangely secretive neighbor, Mrs. Halberstadt, adds to their anxiety. Meanwhile, when Spencer forgets to buy candy, he has a bunch of angry trick-or-treaters on his hands.
See also
Ad blocker interference detected!
Wikia is a free-to-use site that makes money from advertising. We have a modified experience for viewers using ad blockers

Wikia is not accessible if you've made further modifications. Remove the custom ad blocker rule(s) and the page will load as expected.