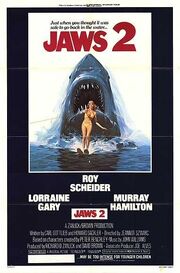 Jaws 2 is a 1978 horror film and a sequal to the 1975 movie Jaws. It was directed by Jeannot Szwarc. It stars Roy Scheider, Lorraine Gary, and Murray Hamilton.
Like Jaws, Jaws 2 was a box office success. Having been made on an estimated budget of $20,000,000, it went on to earn $100,000,000 at movie theaters in the United States. The film was rated PG by the Motion Picture Association of America.
In 1983 a sequel, Jaws 3-D, was released.
Plot
Police chief Brody must protect the citizens of Amity after a second monstrous shark begins terrorizing the waters.
Trailer
External links
Ad blocker interference detected!
Wikia is a free-to-use site that makes money from advertising. We have a modified experience for viewers using ad blockers

Wikia is not accessible if you've made further modifications. Remove the custom ad blocker rule(s) and the page will load as expected.