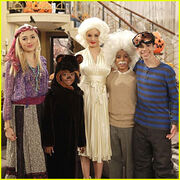 "Ghost Bummers"
is another
Halloween episode
of the TV series
Jessie.
It first aired on October 5, 2013.
Plot
Mrs. Chesterfield throws a rooftop Halloween party, but she does not invite Jessie and the Ross children so they decide to have their own. But their festivities take a haunting turn when Jessie begins to see ghosts and Emma, Luke, and Mrs. Chesterfield are possessed by ghoulish spirits. Now, it is up to Jessie, Ravi, and Zuri to defeat the ghosts and save the day and their building.
See also
Ad blocker interference detected!
Wikia is a free-to-use site that makes money from advertising. We have a modified experience for viewers using ad blockers

Wikia is not accessible if you've made further modifications. Remove the custom ad blocker rule(s) and the page will load as expected.