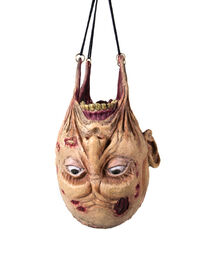 Johnny Jawless is a scary prop decoration for Halloween that is usable both inside and outside.
Hang Johnny Jawless at your house to teach him a lesson for smoking! He will definitely scare the neighbors!
Measuring at 12.25" long x 8" deep x 7.5" high and weighing a mere 14oz, it is made of highly sculpted latex set over a sponge interior. The name may be a reference to Johnny Lawless, both a term and a rugby player from the 1990s and 2000s.
External Links
Ad blocker interference detected!
Wikia is a free-to-use site that makes money from advertising. We have a modified experience for viewers using ad blockers

Wikia is not accessible if you've made further modifications. Remove the custom ad blocker rule(s) and the page will load as expected.