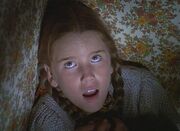 "Haunted House" is an episode of the TV series Little House on the Prairie which makes suitable viewing for Halloween. It first aired on October 8, 1975.
Plot
Many of the children of Walnut Grove think that Amos Pike is a mean old maniac who lives in a haunted house. However, brave Laura Ingalls decides to go up to the spooky house and meet the man. At first she does not have a warm welcome but then she comes over again and apologizes. She and Pike start fixing up his old haunted house. But soon Laura finds out the truth behind the rumors about Pike's life.
See also
Ad blocker interference detected!
Wikia is a free-to-use site that makes money from advertising. We have a modified experience for viewers using ad blockers

Wikia is not accessible if you've made further modifications. Remove the custom ad blocker rule(s) and the page will load as expected.