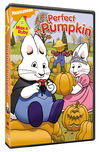 "Max and Ruby's Perfect Pumpkin" is a Halloween episode of Max and Ruby, a Canadian-American animated TV series for preschoolers in which both of the main characters are rabbits. The episode first aired in North America on October 21, 2005.
Plot
Max and Ruby search for the perfect Halloween pumpkin in Mr. Piazza's store. Each time Ruby picks a pumpkin, Max distracts her by wanting some candy and the pumpkin is bought by someone else.
External links
Ad blocker interference detected!
Wikia is a free-to-use site that makes money from advertising. We have a modified experience for viewers using ad blockers

Wikia is not accessible if you've made further modifications. Remove the custom ad blocker rule(s) and the page will load as expected.