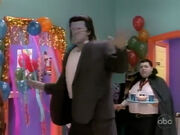 "Life's a Masquerade"
is a
Halloween special
of the live-action TV series
Mighty Morphin' Power Rangers
.
Plot
There is a costume party going on at the Youth Center. Rita uses this distraction to mine a special clay on Earth, from which she will create a breed of Super Putties. She sends her own version of Frankenstein's monster to the party, and he is immediately mistaken for Tommy (likely due to their similar high foreheads). Meanwhile, Alpha 5 shows up at the party.
Ad blocker interference detected!
Wikia is a free-to-use site that makes money from advertising. We have a modified experience for viewers using ad blockers

Wikia is not accessible if you've made further modifications. Remove the custom ad blocker rule(s) and the page will load as expected.