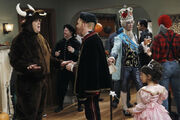 "Open House of Horrors"
is an
Halloween episode
of the American TV series
Modern Family
, airing during its 4th season.
Plot
Claire has overdone it in Halloweens past, so this year she's being forced to keep it "kid friendly." Phil has an idea to hold an open house on Halloween night. Mitch and Cam host a costume party while Lily wonders who her real mom is.
External links
Ad blocker interference detected!
Wikia is a free-to-use site that makes money from advertising. We have a modified experience for viewers using ad blockers

Wikia is not accessible if you've made further modifications. Remove the custom ad blocker rule(s) and the page will load as expected.