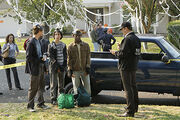 "Code of Conduct" is a Halloween episode of the live-action TV series NCIS.
Co-created by the famous Donald P. Bellisario alongside Don McGill as spin-off of the series JAG, NCIS is a police procedural drama revolving around a fictional team of special agents working for the Naval Criminal Investigative Service (hence the 'NCIS' title), an organization set up to investigate crimes involving the United States Navy and Marine Corps. Members of the team include Agency Directors Jenny Shepard and Leon Vance, Special Agent in Charge Leroy Gibbs, Senior Special Agent Anthony DiNozzo, Special Agents Caitlin Todd and Ziva David, Junior Special Agent Timothy McGee, gothic Forensic Specialist Abby Sciuto, and Medical Examiners Donald "Ducky" Mallard and Jimmy Palmer.
The show follows a similar pattern to the CSI series but is entwined with off-beat humor.
Plot
When a Marine known for his love of practical jokes is found dead on Halloween, the NCIS team is called in to investigate, and they soon learn that his jokes may have been the reason why someone killed him.
Ad blocker interference detected!
Wikia is a free-to-use site that makes money from advertising. We have a modified experience for viewers using ad blockers

Wikia is not accessible if you've made further modifications. Remove the custom ad blocker rule(s) and the page will load as expected.