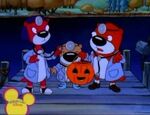 "A Hoohaw Halloween" is the Halloween episode of the animated TV series PB&J Otter. It first aired in the United States on the Disney Channel on October 15, 2000.
Plot
PB&J try to help Pinch overcome her fear of Halloween and trick-or-treating. Everything goes fine until PB&J suddenly all become ill and cannot go out trick-or-treating with the others. Without Peanut and Jelly there, Pinch becomes nervous and wonders if it is a good idea to go out at all.
Ad blocker interference detected!
Wikia is a free-to-use site that makes money from advertising. We have a modified experience for viewers using ad blockers

Wikia is not accessible if you've made further modifications. Remove the custom ad blocker rule(s) and the page will load as expected.