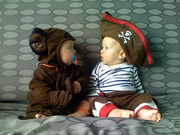 Pirate costumes are a "traditional", scary Halloween costume. With movies like Pirates of the Caribbean, they may have become even more popular in the last few years. A female pirate costume is generally referred to as a "pirate wench" or simply a "wench".
Pirate costumes have variations: While the Jack Sparrow design has become very popular in recent years, there also includes the Long John Silver and the Blackbeard, as well as sexy costumes (especially for girls), and even versions for children and babies.
The costume usually consists of a pirate hat, a fake hook, a striped shirt usually, and a pair of pirate boots.
Gallery
Related
Ad blocker interference detected!
Wikia is a free-to-use site that makes money from advertising. We have a modified experience for viewers using ad blockers

Wikia is not accessible if you've made further modifications. Remove the custom ad blocker rule(s) and the page will load as expected.