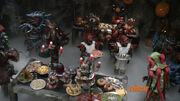 "Party Monsters" is a Halloween special of the live-action TV series Power Rangers Samurai. It first aired in the United States on Nickelodeon on October 29, 2011.
Plot
Halloween is every Nighlok's favorite day of the year so the creepiest creatures from the Netherworld are clamoring to get into the scariest partyever and trade war stories about their battles with the Samurai Power Rangers.
Ad blocker interference detected!
Wikia is a free-to-use site that makes money from advertising. We have a modified experience for viewers using ad blockers

Wikia is not accessible if you've made further modifications. Remove the custom ad blocker rule(s) and the page will load as expected.