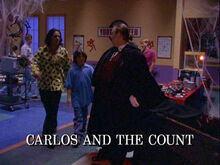 "Carlos and the Count" is the Halloween special of the live-action TV series Power Rangers Turbo.
Plot
After attending Bulk and Skull's Scary Film Festival at the Youth Center, Carlos is ambushed and bitten in the park by Divatox's lunar bat monster, Count Nocturne. Bulk and Skull witness this, and are determined to slay the living dead teen, stalking him through school. Will the Rangers remain unaware that their teammate is slowly turning into a vampire, until it's too late? Or will Carlos manage to turn the others to creatures of the night as well?
Ad blocker interference detected!
Wikia is a free-to-use site that makes money from advertising. We have a modified experience for viewers using ad blockers

Wikia is not accessible if you've made further modifications. Remove the custom ad blocker rule(s) and the page will load as expected.