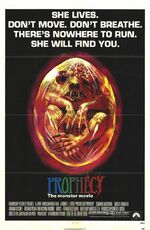 Prophecy is a 1979 horror film directed by John Frankenheimer and written by David Seltzer. It stars Talia Shire, Robert Foxworth, and Armand Assante.
Plot
A log company's waste mutates the environment, creating a giant killer bear monster.
See also
External links
Ad blocker interference detected!
Wikia is a free-to-use site that makes money from advertising. We have a modified experience for viewers using ad blockers

Wikia is not accessible if you've made further modifications. Remove the custom ad blocker rule(s) and the page will load as expected.