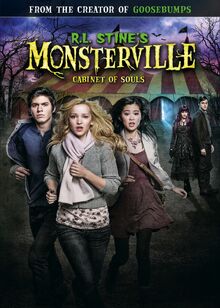 R.L. Stine's Monsterville: Cabinet of Souls is a 2015 Universal Halloween TV film.
Plot
Four friends, "Beth, Kellen, Nichole, and Luke" go to a Halloween haunted house called, "Dr. Hysteria's Hall of Horrors" where her friends become monster slaves to the owner, Dr. Hysteria, and his two children, Lillath and Hunter, who are actually soul eating miner demons, Beth manages to rescue everyone by throwing holy water on the demons, and they escape from the Cabinet of Souls.
Cast
Dove Cameron as Beth
Kathrine McNamara as Lillath
Braeden Lemasters as Kellen
Tiffany Espensen as Nichole
Ryan McCartan as Hunter
Trivia
Ad blocker interference detected!
Wikia is a free-to-use site that makes money from advertising. We have a modified experience for viewers using ad blockers

Wikia is not accessible if you've made further modifications. Remove the custom ad blocker rule(s) and the page will load as expected.