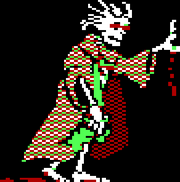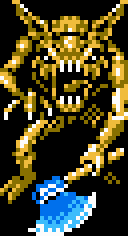 Rabid Lepers are an undead monster found in the 1986 video game Might and Magic Book One: The Secret of the Inner Sanctum. They are notable for having one of the most unique names for a zombie foe in video games. They are low-class in terms of hit points, armor class and damage; however, their speed is average. They are in no way considered a great threat to any party, and may be disposed of easily at any point. As undead, they are weak to the Turn Undead spell, but doing so would be considered a waste of magic.
Their original sprite was shared with the Rabid Leper. Very strangely, when the game was ported to the Nintendo Entertainment System, it was given the same sprite as that seen with the Gremlin.
See also
Ad blocker interference detected!
Wikia is a free-to-use site that makes money from advertising. We have a modified experience for viewers using ad blockers

Wikia is not accessible if you've made further modifications. Remove the custom ad blocker rule(s) and the page will load as expected.