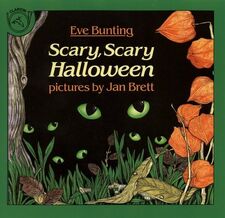 Scary, Scary Halloween (ISBN 089919799X) is a 1986 American children's picture book. It was written by Eve Bunting and illustrated by Jan Brett. The story, written in verse. centers around a family of cats who watch several monsters and supernatural creatures pass by their home on Halloween night. The frightened cats do not realize that all of the scary creatures they can see are just children wearing costumes.
Plot
After the sun sets slowly over the pumpkin patch, a cat begins to feel frightened. She realizes that it must be Halloween. The cat and her three kittens live beneath an old house, next to the steps which lead to the front door. The mother cat warns her kittens not to go out, to close their eyes and to cover their ears. From their home, the family of cats watch in fear as a skeleton, a ghost, a vampire, a werewolf, two witches, several goblins and gremlins and the Devil pass by their home.
The kittens hear a loud sound. Their mother explains that the sound is being made by the feet of a "creature in a winding sheet". The kittens are afraid that the creature might be coming to get them. The "creature", however, ignores the cats and says, "Trick-or-treat", to the owner of the house. The creature is revealed to be simply a boy in a mummy costume. The cats did not see any real ghosts or monsters, just children wearing costumes.
After the "creature" has gone, the mother cat declares that it is safe for she and her kittens to go out and hunt until dawn.
Ad blocker interference detected!
Wikia is a free-to-use site that makes money from advertising. We have a modified experience for viewers using ad blockers

Wikia is not accessible if you've made further modifications. Remove the custom ad blocker rule(s) and the page will load as expected.