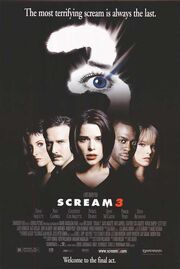 Scream 3 is a 2000 horror film directed by Wes Craven and written by Kevin Williamson. Ehren Kruger designed the characters. It stars David Arquette, Neve Campbell, and Courteney Cox.
The movie was rated R by the Motion Picture Association of America for horror, strong violence and bad language.
Scream 3 performed reasonably well at the box office, although not as well as the previous films in the Scream franchise. It was made on a budget of $40,000,000 and went on to earn $162,000,000 worldwide.
Plot
Ghostface pays Sidney and her friends a third visit while they set of "Stab 3", the third movie is based on Woodsboro Murders.
External links
Ad blocker interference detected!
Wikia is a free-to-use site that makes money from advertising. We have a modified experience for viewers using ad blockers

Wikia is not accessible if you've made further modifications. Remove the custom ad blocker rule(s) and the page will load as expected.