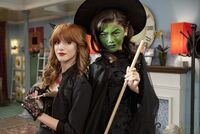 "Beam It Up" is a Halloween-themed episode of the TV series Shake it Up. It first aired in the United States on the Disney Channel on October 9, 2011.
Plot
At a Halloween party at the Shake It Up Chicago studio, Rocky meets a cute guy and tells CeCe to go say "hi" to his brother who is wearing a hunchback costume. CeCe says he looks weird, but complies. Rocky later tells her that they are going to meet both boys at Crusty's the next day. Both girls find out the next day that Rocky's date is the weird one and CeCe's date is the cute one. Rocky refuses to admit this, and she suffers through three hours with her date.
Meanwhile, Flynn suspects that his new neighbor, Zane, is an alien from Jupiter after he and Henry observe strange lights from his room and other of Zane's strange mannerisms.
Ad blocker interference detected!
Wikia is a free-to-use site that makes money from advertising. We have a modified experience for viewers using ad blockers

Wikia is not accessible if you've made further modifications. Remove the custom ad blocker rule(s) and the page will load as expected.