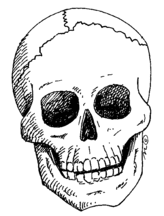 A skull is a bone structure in the head which supports the structure of the face.
On Halloween, people wear skull masks to fit their costumes, whether it is a Grim Reaper, Skull Girl, or just a skeleton costume.
Skulls or simplified images of skulls are also common images in Halloween decorations. Sometimes candy is shaped to look like skulls. For some related holidays, the skull is also a common image, for example, pastries which look like skulls are very popular during the Mexican El Día de los Muertos holiday.
See also
External links
Ad blocker interference detected!
Wikia is a free-to-use site that makes money from advertising. We have a modified experience for viewers using ad blockers

Wikia is not accessible if you've made further modifications. Remove the custom ad blocker rule(s) and the page will load as expected.