"Happy Howl-O-Ween" is the Halloween episode of the animated TV series T.U.F.F. Puppy.
Plot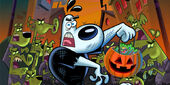 It is Halloween and the villains take all of Petropolis' candy. Dudley and Kitty have to stop them before Halloween is cancelled. Meanwhile, Keswick brings a candy craving horde of dead zombies to life.
Ad blocker interference detected!
Wikia is a free-to-use site that makes money from advertising. We have a modified experience for viewers using ad blockers

Wikia is not accessible if you've made further modifications. Remove the custom ad blocker rule(s) and the page will load as expected.