The Crow: Salvation is the third film in The Crow movie series, released in 2000 by Miramax, and stars Kirsten Dunst and Eric Mabius.
Plot
Alex Corvis is resurrected by The Crow, after he was executed for the murder of his girlfriend Lauren (A crime that he didn't commit) so he sets off to find the real killer.
During his search for the man with the scar, he kills all the police officers who were involved with Lauren's murder, then he finds a scard arm, and thinks he has finished his revenge plot.
Lauren's sister Erin is kidnapped by the Captain of the police force, who is revealed to be the one responsable for Lauren's death, Alex goes to rescue her, and take him down.
The Captain has a scar, so in Lauren's honor, Alex and Erin execute the captain, so he can pay for what he had done.
Alex leaves Erin, and tells her that he and Lauren will always be with her.
Trailer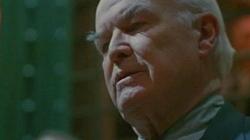 External links
Ad blocker interference detected!
Wikia is a free-to-use site that makes money from advertising. We have a modified experience for viewers using ad blockers

Wikia is not accessible if you've made further modifications. Remove the custom ad blocker rule(s) and the page will load as expected.