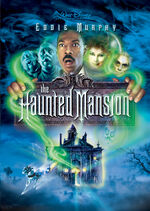 The Haunted Mansion is a 2003 comedy ghost film from Walt Disney Pictures starring Eddie Murphy.
The film did not perform very well at the box office. Having been made on an estimated budget of $90,000,000, it earned less than $76,000,000 at movie theaters in North America. It earned a further $106,000,000 in the rest of the world. The movie also received largely negative reviews.
The Haunted Mansion was rated PG by the Motion Picture Association of America for its subject matter, some frightening images and some use of bad language.
Plot
Jim Evers and his family discover that a house is haunted by four ghosts of deceased people who died there: a man named Master Gracey, a butler Ramsley, maid Emma and other servant Ezra. It is up to the Evers and the ghosts to break the ghostly curse.
Trailer
External links
Ad blocker interference detected!
Wikia is a free-to-use site that makes money from advertising. We have a modified experience for viewers using ad blockers

Wikia is not accessible if you've made further modifications. Remove the custom ad blocker rule(s) and the page will load as expected.