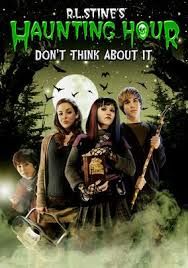 R. L. Stine's The Haunting Hour: Don't Think About It is a 2007 American comedy-horror dark fantasy family film based on the children's book of the same name by Goosebumps author, R. L. Stine.
Plot
Cassie Keller and her brother, Max have strange and spooky encounters when one of them reads the lines of a mysterious book called the evil thing.
Ad blocker interference detected!
Wikia is a free-to-use site that makes money from advertising. We have a modified experience for viewers using ad blockers

Wikia is not accessible if you've made further modifications. Remove the custom ad blocker rule(s) and the page will load as expected.