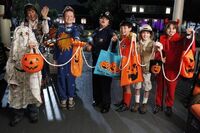 "Halloween II" is a Halloween special of the comedy series The Middle. It first aired on October 26, 2011.
Plot
When Sue's costume only brings her embarrassment at the high school Halloween party, she asks Mike for advice on boys. Frankie is recruited to take Brick and his socially awkward school social skills group trick-or-treating. Axl and his pals decide this year to trick rather than treat.
External links
Ad blocker interference detected!
Wikia is a free-to-use site that makes money from advertising. We have a modified experience for viewers using ad blockers

Wikia is not accessible if you've made further modifications. Remove the custom ad blocker rule(s) and the page will load as expected.