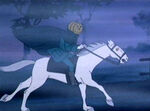 "The Headless Horseman of Halloween" is a Halloween episode of the animated TV series The Scooby-Doo Show. It first aired in the United States on ABC on October 9, 1976. The episode is inspired by Washington Irving's short story "The Legend of Sleepy Hollow".
Plot
The gang is having fun at a Halloween costume party with their friend who happens to be a descendant of Ichabod Crane. Their fun turns into a nightmare when the ghostly Headless Horseman shows up.
Ad blocker interference detected!
Wikia is a free-to-use site that makes money from advertising. We have a modified experience for viewers using ad blockers

Wikia is not accessible if you've made further modifications. Remove the custom ad blocker rule(s) and the page will load as expected.