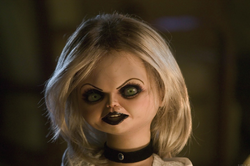 Tiffany Ray (née Valentine) is a fictional horror character. She is a later addition to the Child's Play series, featuring as a secondary antagonist in Bride of Chucky, Seed of Chucky, and a short appearance in Curse of Chucky. She is played (in human form) and voiced (in doll form) by Jennifer Tilly.
List of known victims
Robert Bailey: Throat slashed.
Diane: Eviscerated by falling glass from a glass ceiling.
Russ: Eviscerated by falling glass from a glass ceiling.
RV Owners: Shot in the head by Tiffany and/or Chucky. Offscreen.
Tony Gardner: Decapitated by Wire with Chucky.
Redman: Gutted with a Knife.
Jennifer Tilly: Soul imprisoned in Tiffany (doll)'s dead body.
Fulvia: Head bashed in, cracking her skull.
Officer Stanton: Throat slit with Nail File.
Filmography
External links
Ad blocker interference detected!
Wikia is a free-to-use site that makes money from advertising. We have a modified experience for viewers using ad blockers

Wikia is not accessible if you've made further modifications. Remove the custom ad blocker rule(s) and the page will load as expected.