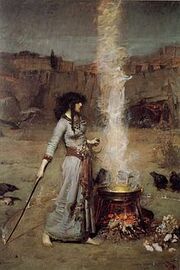 Witchcraft is the practice of magic that is learned by witches or wizards. Witchcraft is used for casting spells and other things for which a witch uses her powers.
Modern witchcraft is not to be mistaken for Wicca, a pagan religion, although many followers of Wicca may also consider themselves witches. The terms "witch" and "wiccan" are not interchangeable. This confusion has led to the discrimination of witches.
In earlier centuries, the term "witchcraft" was often used to mean Devil-worship. This was encouraged by the Bible and Christians.
Ad blocker interference detected!
Wikia is a free-to-use site that makes money from advertising. We have a modified experience for viewers using ad blockers

Wikia is not accessible if you've made further modifications. Remove the custom ad blocker rule(s) and the page will load as expected.